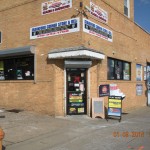 Conveniently located at 7544 Frankford Ave in Northeast Philadelphia, 19136, Frankford Corner Store and Deli is always there for you!
They carry a wide assortment of milk, eggs, bread and deli foods as well as your typical household needs.
Don't forget to get your lottery tickets while you are there! They have sold some BIG winners this past year and you know you have to play if you want to win!
Need Cash?!?! No worries!! Use their ATM! It always has money!
EBT accepted also!