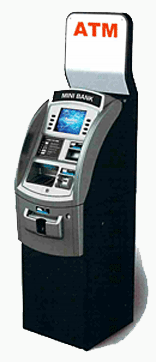 Advance To Go! is an ATM placement and solution organization. Whether you're interested in Free ATM placement or purchasing your own ATM and vaulting your ATM, we guarantee the highest level of efficiency. Call us today for a free consultation!
We Offer:
● Free ATM Placement
● Free Installation
● Free Technical Support
ATMs belong in any establishment where people spend money:
● Retail Locations: Gas Stations, Convenience Stores, Grocery Stores
● Hospitality providers: Hotels, Restaurants, Bars
● Financial Institutions: Banks, Credit Unions, off-site branding
● Gaming Sites: Casinos, Card Rooms, Dance Clubs
● Amusement Parks ● Hospitals ● Office Buildings
We also place ATMs in corporate lunch rooms and/or office building lobbies. Employers offer the ATM as a convenience/benefit to their employees. If your company is interested, we would be available to make a presentation to the necessary decision makers.
If you are looking to grow your business with cash, then having an ATM machine at your location is an awesome way to increase profits! As many successful merchants have learned, providing their customers with an ATM machine ensures that a large portion of the cash that the ATM machines dispense is spent in their stores.  Advance To Go! makes it easy for you to own or lease an ATM machine at the lowest prices in the country! When you buy ATMs from  Advance To Go!, your satisfaction is 100% guaranteed! We deal with only the best ATM machine manufacturers in the country.
Maybe you'd rather not invest in your own ATM but you still would like to have an ATM at your location.  Advance To Go! offers a fantastic program for FREE ATM MACHINE placement from one of our state of the art ATM machine manufacturers.
Already Own an ATM?
Whether you have just taken ownership of a location with an existing ATM, or plan to purchase a new machine, or are simply ready to reactivate your ATM machine:
● All terminals are operated and serviced by Bank Express International to ensure protection of your customers' transactions
● Very competitive revenue programs
● Support by highly trained and certified technicians and staff
● Eye catching and professional signage to attract more customers to your location
Looking To Sell Your ATM Machine?
Top dollar paid. Contact us to schedule an appointment to provide you with a fair estimate.
Looking To Sell Your ATM Business?
We're interested! Let's talk!
Contact Advance To Go Today: