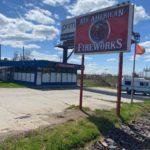 All American Fireworks is a Fireworks Superstore conveniently located at 3133 Lincoln Highway, Bensalem PA right off Exit 351 on the Pennsylvania Turnpike one mile from Parx Casino. They are really easy to find.

They have a large selection of quality products at GREAT PRICES!

Discounts for Military, Veterans and First Responders!

Free bonus fireworks for volume purchases.

Contact them today at 215-244-BOOM (2666) or visit them at allamericanfireworks.net

Please use fireworks responsibly, safely and with respect for others and the Law!

Need cash? ATM service is available!