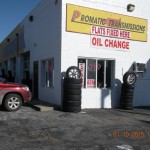 Check these guys out!
Velocity Auto Center located at 1201 Cottman Ave. in the great Northeast section of Philadelphia is open and ready for business!
This is the best place to get tires (new or used) and to have any auto work done.
Open 7 days a week at 8am, they are there for you!
To keep prices down, only cash is accepted…but that's ok…they provide low cost ATM service!
See you soon!